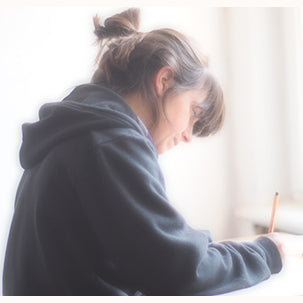 Commissioned Work
Would you like to commission a work of yoga art? Then please leave me a message in the contact form below. After receiving your request, I will get back to you as soon as possible.
Contact Me
References
Chiara Travisi - Iyengar Yoga Institute Milano

"I loved working with Svenja for this "Four Seasons Project". Svenja is a professional illustrator but also an experienced yoga practitioner and teacher. This beautiful combination of qualities allows her to understand the rationale of each of my sequences and to respect their nature. The result is clear and elegant, better than the original image because the illustration vibrates with a luminous satvic energy."

Marrickville Yoga Centre - Australien

"We approached Svenja to commission illustrated programs for our online workshops and we love working with her. The illustrations are consistently beautiful, with great attention to detail. Svenja is efficient, easy to communicate with, and quick to make any revisions as needed. We look forward to continuing to work with Svenja for our future projects!"

Tony - Iyengar Yoga Studio Light of Yoga - Taipei, Taiwan

"I learned about Svenja's beautiful work through her collaboration with Marrickville Yoga and was really thrilled that we could work together to put together her beautiful artwork to showcase Iyengar Yoga's depth and diversity."

Rinat Perlman - GOOD Yoga Hong Kong

"GOOD yoga poster project with Svenja was a delight. Working with Svenja is easy and flowing. Her skills and ability to capture and express the pose and the person doing the pose are remarkable. In our project there were more than 20 different practitioners and in her drawing, Svenja brought to life each in a unique way. 

GOOD yoga poster is beautiful and showing exactly what I had in mind thanks to Svenja's magic hand."

Andrea Escos

"I love working with Svenja. She is not only talented as an illustrator but gives feeling to the drawings with simplicity, using beautiful natural colors. Svenja was able to work with my vision and create the image to match it. She works efficiently and I really appreciate her dedicated customer satisfaction. Svenja is also a high level Iyengar yoga practitioner and teacher which shows in her drawings. I highly recommend her as an illustrator and consultant for any project."

Melisa Sweet

""Working with Svenja was such a pleasure! She was quick to respond and had the artwork done in no time. Svenja was very open and kind. She shared many different versions of the artwork so I would have a variety to choose from. I'm looking forward to working with her again in the future!"

Lisa Waas - Iyengar Yoga North Florida

"Svenja helped to design our 2022 studio T shirt from the seed of an idea I had to the finished product of one of our most loved designs. 

In addition she produced a series of images for note cards that we had printed for a fund raiser for Ukraine. 

In all our conversations she helped support my ideas, helped make the finished product better and delivered beautiful images with great graphics in a timely manner. I highly recommend her and her work!"

Michela Montalbetti - Casa Corvo Yoga

"I found Svenja as I was looking for a yoga sequence online and I was instantly enchanted by her work. The really cool thing is that the illustrations come from a deep knowledge of the poses they are depicting. I decided to ask Svenja to do an illustration for me and my yoga space. The process was lovely, after sending a reference photo, Svenja delivered many versions and kept the flow open to any of my ideas or suggestions. A step at the time, we made it together to the final result which I and my students absolutely love. I can only recommend her! Thank you Svenja!"

Sybille Fröhlich - Iyengar-Yoga-Studio Innerlicht

Svenja's illustration of a yoga posture, which she has designed and drawn after a photo template of mine, is artistically beautifully implemented and really well done. I use the illustration for advertising purposes and I am particularly pleased that I, despite the very small format which I used so far, immediately recognized by my customers in it. Svenja has a talent for capturing and expressing what is important and essential. I also liked the pleasant communication between us, the very good price-performance ratio and the prompt implementation.
Many thanks Svenja for the great work!